Learn the Swedish road signs on your iPhone!
12:00:00 Monday 01/12/2009
Traffic Theory, for the first time in your mobile phone! Crystal Code AB today, the 22 of January, 2009 released a traffic sign test for iPhone and iPod Touch. Lightversionen är just nu under granskning hos Apple och kommer även den att bli tillgänglig inom kort.

Road signs that the first part of the traffic theory series for mobile devices is named, contains 330 questions based on the swedish road signs. This is a completely new way to learn traffic theory.
The price for the full version in the AppStore is only 22 SEK and there is also a "Lite" version which is completely free of charge. A limitation of the Lite version is that there are only 90 questions and these are concentrated to the group warning signs.
Our studies show that road signs is an area of traffic theory where there is indeed a great need for new learning tools. Many students find it difficult to learn all the road signs and it can be quite cumbersome to learn them all because there are so many. We believe that by using your mobile it can both be a bit more fun and you get the opportunity to practice wherever you are.
If you sit on the bus or is waiting for a lesson, you can pick up your mobile phone which you always have with you and practice a few questions, books are rarely available when you have a moment.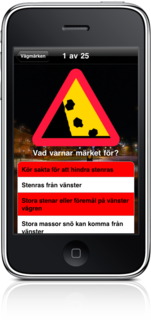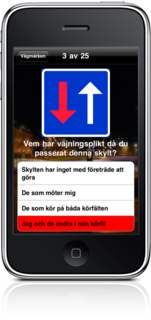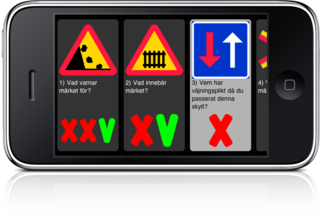 Actions
iTunes App Store
iTunes App Store (Lite)
In Media
iLove
MacWorld
omiPhone.se
Mobil
MikroDatorn
Computer Sweden
Images
Primary Image
Secondary Image 1
Secondary Image 2
Secondary Image 3
Secondary Image 4
Share

Twitter
Keywords